Public Health, PHRASES, Collaboration, Communication
de Beaumont Foundation & Aspen Institute Launch PHRASES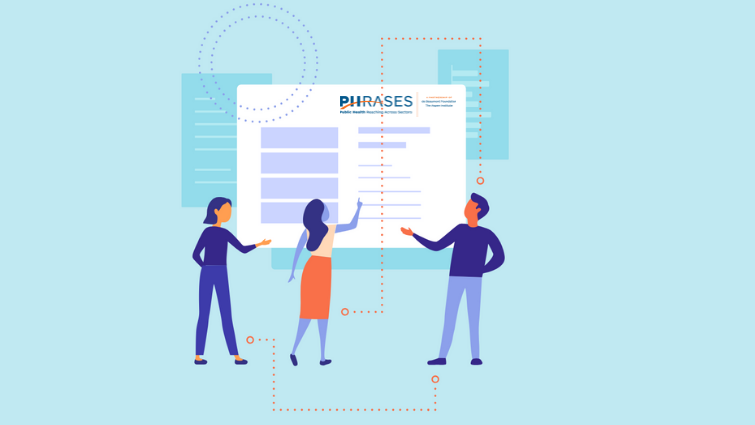 Today, the de Beaumont Foundation and the Aspen Institute's Health, Medicine and Society (HMS) Program are launching the Public Health Reaching Across Sectors (PHRASES) initiative, a multiyear project designed to provide the tools and training public health practitioners need to effectively engage, communicate, and work with local partners, like mayors, housing commissioners, hospital executives, and school superintendents.
Leaders in both public and private sectors make decisions every day that affect the health of the people they serve. But too often, public health professionals – the very people who have the insight and expertise to inform and shape these decisions – are not part of the decision-making process. In some cases, these professionals are not invited; in others, they have not made the value of their contributions clear.
"To achieve broad health gains, public health leaders need to be strategic in catalyzing change, leading action, and engaging partners," said Ed Hunter, President and Chief Executive Officer of the de Beaumont Foundation. "This requires reaching out to an increasing array of other leaders and sectors that have the ability to help save lives, save money, and help communities thrive.  Public health officials need to better understand key partners' goals and work with them to achieve those as well. PHRASES is intended to help make that happen."
"We must equip public health leaders with the skills they need to work in partnership with other key sectors at the state and local levels," said Ruth Katz, Director of the HMS Program at the Aspen Institute. "Public health professionals cannot reach their goals alone, and other sector leaders would benefit from the expertise public health professionals can offer. The challenge is to make the value of public health visible, useful, and relevant to decision-makers in housing, education, agriculture, law enforcement, business, and other sectors."
PHRASES aims to:
Create a "go-to" and easily accessible web resource that compiles and synthesizes high-quality published research that documents the ways in which public health provides value to other sectors;
Identify core elements of a communications strategy that describes public health in ways that resonate within and across sectors;
Develop a toolkit that ties the evidence for public health's contributions across sectors to what is learned from the project's message research and testing; and
Conduct outreach and training for the public health community to ensure effective use of the project's web resource and toolkit.
Karen DeSalvo, MD, MPH, MSc, Former Acting Assistant Secretary for Health at the U.S. Department of Health and Human Services and Former Health Commissioner of the City of New Orleans, and Soledad O'Brien, CEO of Starfish Media Group and Host of Matter of Fact with Soledad O'Brien, will co-chair the PHRASES Advisory Committee. The Advisory Committee, comprised of twelve leaders representing a diverse set of sectors, will provide guidance on PHRASES priorities, strategies, and messaging.
The de Beaumont Foundation is dedicated to improving the capacity and performance of the U.S. public health system, and equipping public health agencies to thrive in a transforming health landscape. In so doing, we aspire to improve the health of the populations of the communities they serve across the U.S. Learn more at www.debeaumont.org.
The Health, Medicine and Society (HMS) Program is the principal domestic health initiative at the Aspen Institute, one of the world's premier gathering places for leaders to come together to explore the ideals that define a good society. Rigorously nonpartisan, HMS convenes multi-disciplinary forums that allow decision-makers to exchange knowledge and insights, and forge collaborative networks that are essential to building better health for all. Through round tables, briefings, conferences, Internet forums, and other venues designed to promote strategic dialogue, HMS charts the way forward on health, health care, health policy and medicine. Learn more at www.aspeninstitute.org.