PHRASES, Collaboration, Communication, PHRASES Fellows
Meet the 2019 Class of PHRASES Fellows!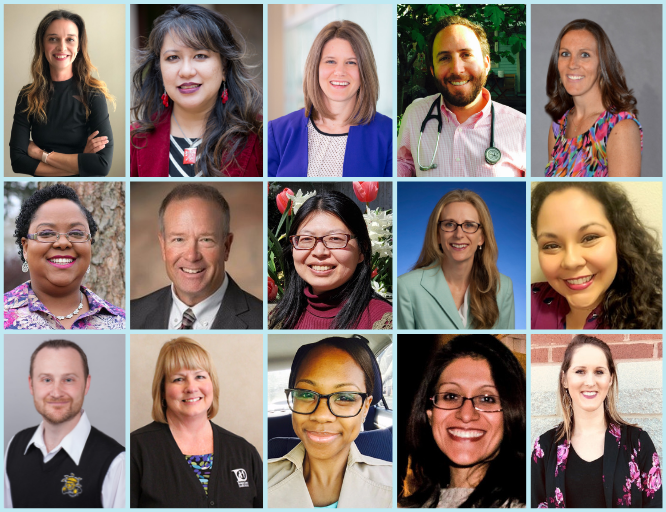 We're pleased to introduce the 15 public health professionals who have been selected as PHRASES Fellows by the de Beaumont Foundation and the Aspen Institute. These leaders have demonstrated a commitment to developing cross-sector collaborations in their communities and a passion for improving the way public health communicates its value to decision-makers in other sectors to forge those critical partnerships.
The PHRASES Fellows will take part in in-depth training from the FrameWorks Institute to hone their skills in the art and science of message framing, network with fellow forward-thinking public health pros, and serve as ambassadors for the PHRASES Toolkit.
Get to know these collaborative public health leaders, representing city, county, and state health departments, nonprofits, and private companies, below:

Michelle Carvalho
Michelle Carvalho, MPH, MCHES, has over 20 years of experience in community health and evidence-based public health, including training, communications, program implementation, evaluation, partnerships, and community-based participatory approaches. In her role as Program Manager of the Region IV Public Health Training Center, she serves as a one of the key liaisons with state, local, and tribal health departments in the eight states of Region IV of the Health and Human Services (HHS) regions, which includes Alabama, Florida, Georgia, Kentucky, Mississippi, North Carolina, South Carolina, and Tennessee.
Previously, she served as the Team Lead for the Cancer Prevention and Control Research Network (CPCRN) of the Emory Prevention Research Center. Since 2004, she has facilitated trainings for state and local health departments, NACCHO, CDC, National Cancer Institute, APHA, SOPHE, and community-based organizations.
She completed her Master of Public Health in Prevention Science at Emory University's Rollins School of Public Health.

AAron Davis
AAron Davis, MPA, MBA, is the Director for the Center for Public Health Initiatives, which is housed in the Community Engagement Institute at Wichita State University in Kansas. He specializes in project management and strategic business operations.
AAron's career has included work in both government and private industry. He has worked previously a local public health department, but now works to assist and improve all areas of Public Health in the state of Kansas through his role at Wichita State University. He has Master's Degrees in Public Administration and in Business Administration, as well as undergraduate degrees in Business Administration and Integrated Marketing Communications.
With more than a decade of experience in Public health, AAron is an advocate for advancing the Public Health 3.0 model in Kansas.

Kelli Gerdes
Kelli Gerdes, EP-C, serves as the Health Promotion Manager for the Cerro Gordo County Department of Public Health in Iowa. She works in the area of chronic disease prevention, focusing on policy, systems and environmental design strategies. In addition to working with small communities on built environment improvements, she coordinates the Cerro Gordo County's employee wellness program and provides services and leadership to external organizations on employee well-being.
Ms. Gerdes serves on Iowa's Healthiest State Initiative Worksite Wellness advisory team, and locally on several health promotion coalitions. She has spent the last 10 years in Public Health and enjoys the evolutions she's experienced in Public Health programming and services in order to best respond to community health needs and discoveries in public health sciences.
Kelli earned her Bachelor of Science in Kinesiology from Iowa State University and is a certified Exercise Physiologist (ACSM), Strength and Conditioning Specialist (NSCA), Iowa Walking College Fellow, and Certified Health Coach (ICC).
Shelia Hiddleson
Shelia Hiddleson, RN, MS, has over 14 years of experience as a health commissioner, including her current role as the Health Commissioner for the Delaware General Health District (DGHD) in Delaware, Ohio, where she represents the 190,000 residents of her local health district.
Shelia is the Vice President of the Association of Ohio Health Commissioners, Ohio's SACCHO. She's taken leadership roles in the area of work force development, supporting the Public Health 101 training for new employees of local public health and the Leadership Essentials for Health District Success training for new leaders in public health throughout the state, among other trainings. Further, Shelia is an active member of the NACCHO Workforce and Leadership Workgroup.
She is also a trained site visitor through the Public Health Accreditation Board.

Chelsie Huntley
Chelsie Huntley, MPA, serves as the Director of the Center for Public Health Practice at the Minnesota Department of Health, where she is dedicated to strengthening capacity and improving the performance of Minnesota's governmental public health system.
Over the last 9 years of her career, she has developed expertise and passion around health assessment and improvement planning, state-local partnership facilitation, performance management, quality improvement, public health accreditation, practices to advance health equity, and foundational public health services.
Chelsie holds a Bachelor of Science in Nursing and a Master of Public Administration and worked in a local county health department prior to her current role.

Joseph Kanter
As Administrator and Medical Director for Region One of the Louisiana Office of Public Health, Dr. Joe Kanter serves as the lead public health official for the Greater New Orleans area, coordinating clinical services, emergency preparedness, infectious disease control, and strategic health initiatives in the region. 
In his former role as Director of Health for the City of New Orleans, Dr. Kanter led Mayor Mitch Landrieu's comprehensive opioid mitigation strategy.  A practicing emergency physician at University Medical Center, primary care physician at the Health Care for the Homeless clinic, and Clinical Assistant Professor of Medicine at both LSU Health Sciences Center and Tulane School of Medicine, Dr. Kanter cares for a broad and extremely diverse spectrum of patients in the New Orleans area, including some of the most vulnerable in his community. 
He is a committed academic and works closely with residents, students, and other learners.  His primary interests are expanding access to patient-centered care, promoting health equity, and developing innovative, collaborative methods of keeping frequent users of the emergency department healthy, productive, and out of the hospital.

Jeff Kuhr 
Jeff Kuhr, PhD, MCHES, is the Director of Public Health for Mesa County, Colorado, serving 150,000 residents on Colorado's Western Slope.  He is an active participant in statewide policy and program development, serving on the Colorado Board of Human Services and the Colorado Early Childhood Leadership Commission.
Jeff is a Fellow of the Ascend Colorado Children and Families Fellowship with the Aspen Institute.  In Grand Junction, he serves on the board of directors for St. Mary's Regional Medical Center, is immediate past board chair for the Rocky Mountain Health Foundation, and acts as Co-Facilitator of the Mesa County Health Leadership Consortium.
Jeff has a PhD in Educational Psychology from the University of Nebraska and is a Master Certified Health Education Specialist. He has been a local public health director for 16 years.

Bunmi Lewis
Olubunmi ("Bunmi") Lewis is the Emergency Communications Coordinator at the Rhode Island Department of Health. In her role, she supports the agency's commitment to promoting health equity and addressing the socioeconomic and environmental determinants of health.
Bunmi received an A.A. in Liberal Arts from the Community College of Rhode Island and a B.A. in Communication Studies from the University of Rhode Island. Her career has taken her from the local NBC newsroom as an Associate Producer to the Rhode Island Governor's Office as a Policy and Communications Associate.
While serving in the Governor's Office, Bunmi was a liaison to the Rhode Island Department of Health during the height of an international health threat. That experience sparked her passion for the critical role of public health communications in communities.

Sarah Martin
Dr. Sarah Martin is currently Director of Health Solutions at mySidewalk–a technology firm specializing in making local government data effectively inform policy making.
In her previous roles as the Deputy Director of the Kansas City, Missouri Health Department, she oversaw the Department's initiatives to influence the social and economic policies that shape health inequities, as well as performance management, crisis communications and social marketing.
Dr. Martin received a Master of Public Policy, a Master of Public Health (Epidemiology) and a PhD in Public Policy from the University of California, Berkeley. Dr. Martin is currently a Gubernatorial Appointee to the Missouri State Board of Healing Arts, a board member for the Missouri Budget Project and an adjunct professor of Health Services Research at the University of Missouri, Kansas City's Bloch School of Management.

Leslie Meehan
Leslie Meehan, MPA, AICP, oversees the Office of Primary Prevention in the Commissioner's Office of the Tennessee Department of Health.  The Office serves as a hub for upstream, primary prevention policies and strategies that impact social influencers of health.  Her works includes increasing physical activity through the built environment to positively impact social, emotional and physical health. 
Previously, Leslie served ten years as the Director of Healthy Communities for the Nashville Area Metropolitan Planning Organization (MPO) in Tennessee.  At the MPO, she focused on the intersection of transportation and health, specifically transportation's impacts on physical activity, air quality and injury. 
Her innovative work has been recognized nationally and internationally, most recently by the Association of State and Territorial Health Officials (2018 Vision Award), the National Association of Chronic Disease Directors (2017 Joseph W. Cullen Excellence Award) and the Institute of Transportation Engineers (2017 Transportation Achievement Award for Planning). 

Melissa Rockett
Melissa Rockett serves as the Built Environment Coordinator at the Community and Clinical Connections for Prevention (CCCCPH) and Health Branch at the North Carolina Division of Public Health. In this role, focusing on the CDC's State Physical Activity and Nutrition (SPAN) program, she supports built environment strategies to promote health and increase access to physical activity
After earning a Bachelor of Science Degree in Public Health from East Carolina University, Melissa worked as a regional coordinator for the North Carolina Community Transformation Grant Project in Western North Carolina and as a regional coordinator for the Obesity, Diabetes, Heart Disease, and Stroke Prevention Project. In May, Melissa will receive a Master of Public Administration concentrating in Health Administration at the University of North Carolina at Pembroke.
Melissa enjoys being a part of supporting community change to increase health equity and provide North Carolinians, for generations to come, the opportunity to live a healthy life regardless of where they live.

Nicole Smith
Nicole Smith, MPH, is a Community Health Specialist for the City of York – Bureau of Health in Pennsylvania.  In her role, she leads a variety of community health initiatives focused on policy, systems, and environmental change.
Nicole is Co-Chair of the Falls Free Coalition of York County, which focuses on falls prevention education for older adults, and Secretary of the Susquehanna Valley Breastfeeding Coalition, which promotes breastfeeding support for local mothers. Nicole also leads the City's Active Transportation Committee and serves on the Traffic Safety Committee in support of Complete Streets Policy. She is the Outreach Chair for York County Walks, a countywide initiative which promotes the health benefits of walking for physical activity, and is very active in bringing awareness to pedestrian safety as a public health concern.
Nicole Smith received a Bachelor of Science in Biology from Alderson- Broaddus College with a minor in General Chemistry and a Master of Public Health degree with a concentration in Nutrition from Liberty University.
Myduc Ta
Myduc Ta, PhD, MPH is an epidemiologist with the Assessment, Policy Development and Evaluation Unit at Public Health – Seattle and King County in Washington State. In her current position, she provides epidemiologic data analysis expertise and knowledge of surveillance systems in support of programmatic work on healthy eating and active living, youth health and well-being, and injury and violence prevention.  She also serves as a liaison to the City of Seattle Human Services Department, supporting their Data, Performance and Evaluation Team with population-level data needs. 
As a former CDC Epidemic Intelligence Service Officer assigned to the Washington State Department of Health Non-infectious Conditions Epidemiology Unit, she conducted quantitative and field investigations in the areas of chronic disease risk factors, injury, and environmental health. She holds a Master of Public Health degree from the University of California at Los Angeles, and doctorate degree from the University of North Carolina at Chapel Hill. 
She strives to approach data with a health equity lens and is excited for the opportunity to develop skills in communication across sectors to build healthy and safe communities.

Annette L. Torres
Annette Torres is the Program Manager for the A Smoke Free Paso del Norte Initiative at the YMCA of El Paso in Texas. Since starting with the initiative, she has helped support local coalitions in moving communities toward the adoption of smoke-free ordinances and alcohol-related policies.
After completing her degree in Psychology at the University of Texas El Paso , Annette spent a year as an AmericCorp VISTA in Phoenix and staffed various political campaigns across the country. She returned to El Paso to work for government in the areas of workforce and economic development and public health, prior to starting her role at the YMCA.
Her upbringing in a bicultural community and her work with underserved groups has driven Annette's passion for driving change through collaborative efforts and public policy.

Jackie Valenzuela
Jackie Valenzuela, MPH, MCHES, is a public health and communications strategist with nearly fifteen years of government experience in Los Angeles County, California. She currently serves as a Senior Advisor to Dr. Barbara Ferrer, the Director of the Los Angeles County Department of Public Health.
For more than a decade, Jackie held the role of Director of Health Education Administration, where she implemented initiatives that advanced organizational objectives in areas including workforce development & training, risk communication, culture and language, and strategic planning. As the Marketing & Communications Manager for the LA County Department of Health Services, she also led and informed communications and stakeholder engagement enterprises.
Jackie holds a Bachelor of Arts in English from California State University, Northridge and a Master of Public Health from the University of Southern California. She is also a Master Certified Health Education Specialist.